GRACE IN WORSHIP
Come to worship on Sunday, November 24 at 7:45 a.m. and 10:45 a.m. when we celebrate Christ the King Sunday. The Reverend Dr. Cedrick Bridgeforth will continue his worship series, "Abiding in the Reign." The Chordmen Choir will minister in song. The Men's Usher Team and Youth Usher Board will serve at 10:45 a.m. 
Grace United Methodist Church is a child-friendly congregation so your child(ren) may always attend worship with you. 
LITURGICAL SEASON
The season after Pentecost is known as Kingdomtide or Ordinary Times. The focus of the season is on Jesus' teaching ministry and the kingdom and the reign of God. As Christians, we  share our faith with others, we renew and reaffirm our own faith, and do the Lord's work in our church, community, and our homes under the power of the Holy Spirit, which lives in us.
Kingdomtide ends before the first Sunday of Advent. The last Sunday of the season is "Christ the King Sunday" when we acknowledge Jesus Christ as the "King of all kings." The season also includes All Saints Day (November 3) and Thanksgiving Day (November 28).
The liturgical color of

Kingdomtide

is

green

to symbolize life and growth in the church as reflected in the symbol below.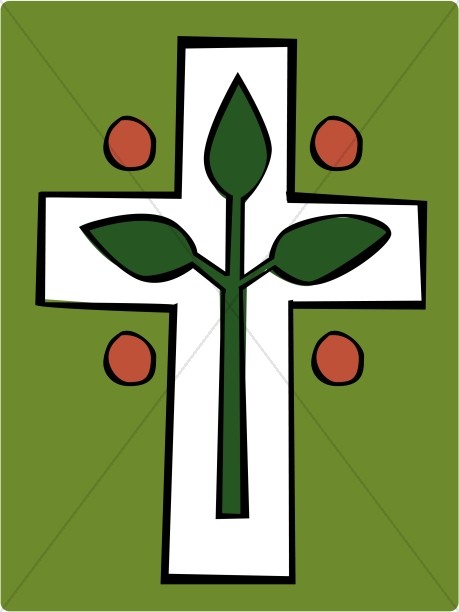 Just because you can't see him, doesn't mean he's not there.
---
BIBLE STUDY CLASSES
Noon Bible Study led by Rev. Dr. Cedrick Bridgeforth is held each Wednesday from 12-1:15 p.m. Call the church office to confirm the meeting location. 
PRAYER GROUP
Prayer Warriors
Wednesday mornings at 6:15-6:30 a.m. via conference call at 712-451-0913 (access code 976658).
View the list of those seeking your prayers.
HOW TO JOIN GRACE UNITED METHODIST CHURCH

You are invited to become a member of Grace!
After the sermon, Rev. Bridgeforth offers the invitation to become a Christian and a member of our congregation. If you feel motivated by God to accept the invitation, while the choir sings, come forward to the altar area. Members of the congregation will join you as a sign of support and encouragement.
A new members class is offered before the membership becomes official. Visitors may attend inquirer's class to learn more about the United Methodist Church and our faith community before making the decision to join.
If you have never been a member of any church, you may join by professing Jesus Christ as your Savior. (Full membership after baptism)
If you have been a member of a church at one time and baptized, but have been inactive, you may join by renewing your faith in Jesus Christ as Lord and Savior. (Full membership)
If you are a member of another church, you may join by requesting that your membership be transferred to Grace. (Full membership)
If you wish to keep your membership with another church, but would like to have an official relationship with Grace UMC, you may join as an affiliate member. (Affiliate Membership)
The Ritual of Baptism can be your choice by sprinkling or immersion. There is one (1) mandatory counseling session required. (Full Membership)