Although there is no on-campus worship, you, your family and friends may connect to our worship service on Zoom by clicking HERE or you can join us on YouTube at youtube.com/graceumcla!
---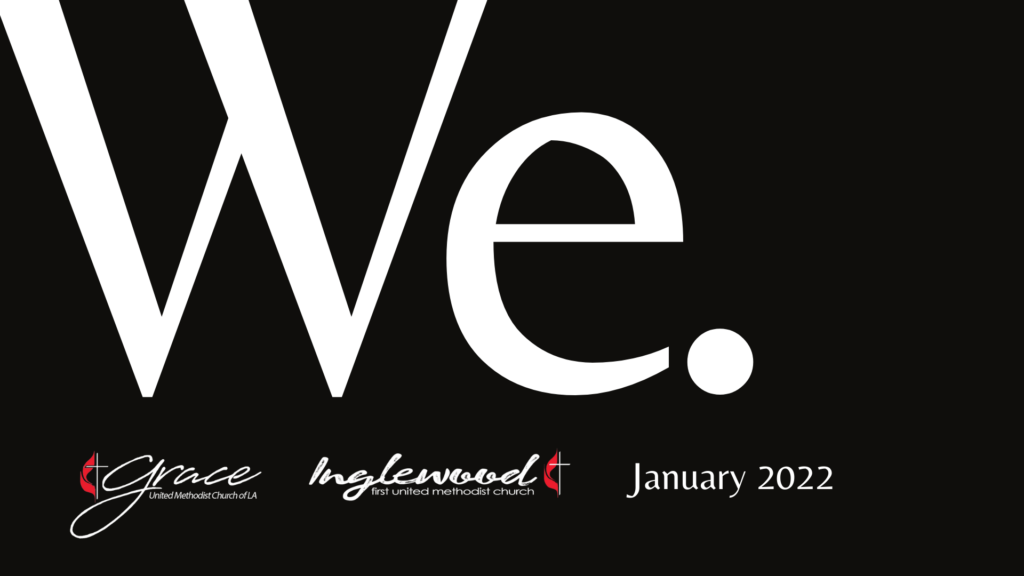 Summary:
For the month of January, our sermon series will focus on the importance of the entire Body of Christ. God has given us all unique gifts and callings to serve. We are not alone, for God is with us and God gifts us to serve together!
With the gifts that God has given us, scripture reminds us that they all are activated by love. No matter how skilled, talented or gifted we are, if we are not motivated by love we miss out on fulfilling our mission!
---
Order of Worship :: Saturday, January 29, 2022
---
Scripture: 1 Corinthians 13:1-13 (Common English Bible)
If I speak in tongues of human beings and of angels but I don't have love, I'm a clanging gong or a clashing cymbal. 2 If I have the gift of prophecy and I know all the mysteries and everything else, and if I have such complete faith that I can move mountains but I don't have love, I'm nothing. 3 If I give away everything that I have and hand over my own body to feel good about what I've done but I don't have love, I receive no benefit whatsoever.
4 Love is patient, love is kind, it isn't jealous, it doesn't brag, it isn't arrogant, 5 it isn't rude, it doesn't seek its own advantage, it isn't irritable, it doesn't keep a record of complaints, 6 it isn't happy with injustice, but it is happy with the truth. 7 Love puts up with all things, trusts in all things, hopes for all things, endures all things.
8 Love never fails. As for prophecies, they will be brought to an end. As for tongues, they will stop. As for knowledge, it will be brought to an end. 9 We know in part and we prophesy in part; 10 but when the perfect comes, what is partial will be brought to an end. 11 When I was a child, I used to speak like a child, reason like a child, think like a child. But now that I have become a man, I've put an end to childish things. 12 Now we see a reflection in a mirror; then we will see face-to-face. Now I know partially, but then I will know completely in the same way that I have been completely known. 13 Now faith, hope, and love remain—these three things—and the greatest of these is love.
---
---
Bible Study Lesson
Gathering Time (5-10 minutes).
In pairs or groups of three, discuss: "When I think of love, I picture…"
Discussions Questions (Approximately 30 minutes)
When do we usually hear 1 Corinthians 13 recited? In light of the context of this passage (that of a church fight about gifts) is 1 Corinthians 13 a fit for weddings? How so?
What makes love a "better way" (12:31)?
How does God demonstrate love to us?
Prayer (10 minutes).
Share prayer requests and respond appropriately.
Sending Forth (2 minutes). End by praying the following or a similar prayer:
God of love, you have shown us a better way. We confess that we often fall far short of this standard. May we be reborn by the power of the Holy Spirit such that our ability to love you and love others expands. Empower us to love all those you have called us to love. Amen.