The Preparing to Sail Church Health Assessment is taken by churches of any size. Individual participants' responses remain anonymous, but are compiled to evaluate a congregation's strength level related to each of the 9 health markers of a church in the process of ReMissioning: Relationship, Membership, Leadership, Worship, Discipleship, Stewardship, Partnership, Mentorship, Partnership.
Please note the following:
When starting the assessment, you members will need to select their appropriate Place of Worship: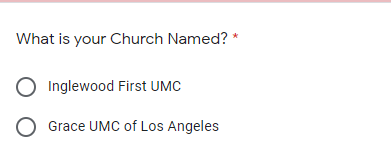 The Assessment will remain open until 5 pm PST on March 7. The link will expire at that time.

It does not require registering with a google email address. We do not track responses by email, nor do we keep a record of who has accessed the assessment to ensure complete anonymity.